About Us
Open Bible Church
Open Bible Church has a long history in Boone. The church has been affiliated with Open Bible Churches of Des Moines, Iowa, for over 70 years. It has been at its current location since 1986 and was expanded in 2008.
Lead Pastor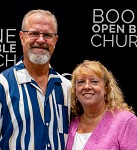 Pastor Phil Waldo originally came to Boone in 1993 as our Youth and Associate Pastor, and then in 2000, he became our Lead Pastor. Pastor Phil and Naomi have been married since 1985 and have two adult children, Michelle and Jacob. Phil is very musical and has written many songs, some of which we sing here. Naomi volunteers at the church office as well as working part-time at a local clinic doing x-rays.
We Believe
We believe the Bible to be the inspired and only authoritative Word of God. It is without error in its original manuscripts.
We believe there is one God eternally existing in three persons, Father, Son and Holy Spirit.
We believe Jesus Christ is God. He was born of a virgin, lived a sinless life and performed countless miracles. His blood shed on the cross has power for salvation. He conquered death, bodily rose again to life and ascended to the right hand of the Father. He will personally return in power and glory.
We believe that man has no power within to save himself. The work of the Holy Spirit is absolutely essential for salvation.
We believe the full gospel includes holiness of heart and life, healing for the body and baptism in the Holy Spirit.
We believe the Holy Spirit lives in Christians and enables us to live godly lives.
We believe everyone who dies will one day rise again. Those who are saved will rise to eternal life. Those who are unsaved will rise to eternal damnation.
We believe in the spiritual unity of all believers in our Lord and Savior, Jesus Christ.