About Us
Open Bible Church
Open Bible Church has a long history in Boone. The church has been affiliated with Open Bible Churches of Des Moines, Iowa, for over 70 years. It has been at its current location since 1986 and was expanded in 2008.
Lead Pastor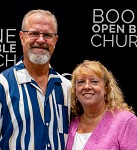 Pastor Phil Waldo originally came to Boone in 1993 as our Youth and Associate Pastor, and then in 2000, he became our Lead Pastor. Pastor Phil and Naomi have been married since 1985 and have two adult children, Michelle and Jacob. Phil is very musical and has written many songs, some of which we sing here. Naomi volunteers at the church office as well as working part-time at a local clinic doing x-rays.
---
Vision, Mission, Values
Who are we?
A caring group of people committed to Christ, his Church, and our community.
What are we trying to accomplish?
To bring people into unity with God and the body of Christ (his church)
To develop people into spiritually mature followers of Christ
To lead people into a lifestyle of complete surrender to the fullness of Christ
This is our F.O.C.U.S. – Fullness Of Christ, Unity, Spiritual maturity
How will we reach the goals?
We will worship God
We will serve God and others
We will evangelize the lost
We will fellowship with God's family of believers
We will disciple followers of Christ
---
Personal
Open Bible Church is a friendly, family oriented church desiring to grow in our relationship with Christ and each other.
Practical
At Open Bible Church you will hear Godly vision and Biblical teaching that is practical for daily life.
Powerful
Since God is living and active today, He can change your life.